About the Artist – Cathy Phaneuf;

Simply put, weaving soothes my soul. There is something about the feel of the threads, the rhythm of the treadles, the rustling of the heddles that speaks to me. I never wanted to weave, nope, not me, no interest. Then on a whim I bought and old antique loom on ebay in New Hampshire. Shipping was outrageous, so a friend and I loaded up my truck camper and horse trailer and headed East on a 3 day weekend. She is a weaver and for 3 days we talked about warp and weft, shafts and treadles, shuttles and drafts. When we got back to her place, she let me weave a rug on her loom and sent me on my way. That is how I learned to weave.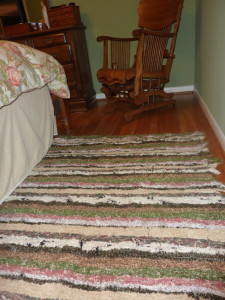 Now 20 years later, I am a weaver. I learned on that first loom to weave rugs and then moved on to scarves, and then moved to a loom with more shafts. From there I moved to big looms and lots of shafts. Then I moved to mechanically programmable looms, and just this last year I bought a computer assisted loom. Currently I own and use 7 looms on a regular basis to weave shawls, dishtowels, table linens, vests, jackets, and of course, rugs.
See my show schedule on the events page.
Her Work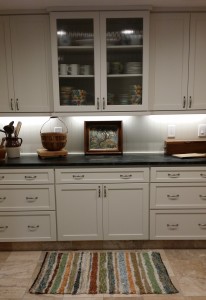 The last year my focus has changed regarding my weaving. I purchased/acquired 4 AVL brand looms which enable me to weave more efficiently and create more intricate patterns. I am now able to put long warps on my looms and change paterns easily, giving me more creative possibilities for shawls, scarves and table linens.
I have added a rug shop at my farm. I weave with mostly upholstery selvedge, cotton sock loopers and a few rag rugs. These rugs all use materials that have been repurposed. All my rugs are machine wash and dry.